Rosé All Day at Surfside Beach Bar: Experience Pink Elegance and Fun
Rosé All Day: The epitome of fashion, pink elegance and fun, a chic beach extravaganza taking place at Surfside Beach Bar on Saturday 1st July from 3pm. until 12:00 am. Get ready to slip into your most fashionable beach attire and embark on a day filled with unforgettable moments! With a wine menu featuring premium wine labels, your taste buds are in for an experience like no other. But wait, there's more! Allow us to introduce you to the captivating "Rosé All Day" and discover the magic that awaits you:
The Ultimate Entertainment Experience
Prepare to be swept away by the best live entertainment from 3 PM until 12 AM. As the sun casts its golden glow, the soundstage at Surfside Beach Bar comes alive with mesmerizing performances that will make lose yourself in the infectious energy of the day.
VIP Dinner on the Beach: A Luxurious Culinary Journey
For those seeking an exclusive and luxurious experience, the VIP dinner on the beach awaits. Renowned chefs will create a culinary masterpiece: a four-course meal that will tantalize your taste buds and leave you wanting more. Each dish will be thoughtfully paired with the finest selection of premium rosé wines, ensuring an unparalleled dining experience. Imagine being seated on the sandy shores, with a breathtaking view of the Caribbean Sea as your backdrop. And when the band takes the stage, be prepared for a soul-stirring performance that will leave you captivated.
VIP Dinner Details:
Dinner starts at: 6:00 PM
Price: 100 florin per person
Limited Seating: Only 100 seats are available for the VIP dinner, so be sure to make your reservation promptly.
Reservation: To secure your dinner ticket, reservations are required through the website www.rosealldayaruba.com.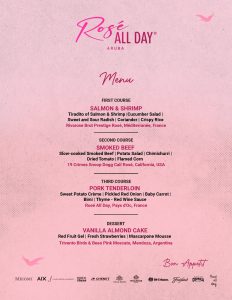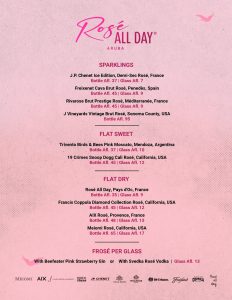 Entertainment Lineup and Special Attractions
DJ Lineup: PTR, DJ Smiley, and DJ V will spin the tunes and keep the energy high throughout the event. Their eclectic mixes will have you dancing from sunset to midnight.
Live Band: Travel Session Aruba, a talented live band, will take the stage to deliver a sensational performance that will ignite your senses and create lasting memories.
Free Giveaways: Exciting surprises await you throughout the event. Keep an eye out for free giveaways that will add to the thrill of the day.
Free Entrance: Admission to Rosé All Day is absolutely free! Gather your friends and join the celebration without any entry fees.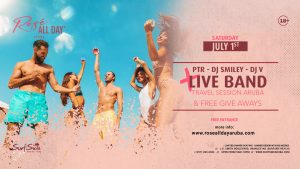 The Rosé Wine Menu and Floaties on the Water
Indulge in the delightful world of rosé wines with the special Rose Wine Menu. Discover an array of exquisite rosé options that perfectly complement the elegant atmosphere and add to the enjoyment of the event.
Additionally, don't miss out on the chance to relax and float on the water with the provided floaties, creating a whimsical and playful experience in the crystal-clear waters of Aruba.
For more information and reservations, please visit www.rosealldayaruba.com.
Rosé All Day is sponsored by AIX, JP.Chenet, 19 Crimes, Birds & Bees, J. Vineyards & Winery, Rivarose, Francis Ford Coppola Winery, Meiomi, Freixenet, Rosé All Day.